Come and join Inspiration Is Life for an international retreat that is focused on healthy relationships, connection, and adventure!
Save the date this upcoming August 27-September 2, 2023. This is an all-inclusive retreat for solo travelers and couples. We are incorporating a true German experience beginning with the first portion of the trip in Bavaria and the final part of it enjoying Munich.
Reconnect to play, presence, and your inner nature with yoga/meditation, animal therapy, forest bathing, workshops on healing, creativity, and ancestral constellation.
This retreat will be catered to those seeking fulfilling relationships, emotional intimacy, and relationship dynamics. Enjoy a trip that encourages you to nurture your inner child and reconnect to your ancestors.
Alicia and Ashley hold a week-long experience that gives you full permission to explore the depths of your self-expression with a sense of curiosity and a light heart.
Wake up each morning with movement as a daily ritual through a variety of styles of yoga and even Pilates one of the days too! Enjoy authentic meals that are healthy and leave you feeling good. Tend to your mind, body, and spirit by unplugging from the day-to-day tasks and reconnecting more intimately to the relationship you have with yourself, your lover, family, and friends.
Each day there will be a new activity set up designed to nourish, uplift and inspire you. Some of the activities include hiking, German cooking class, a sound bath, a cacao ceremony, and art/animal & nature therapeutic workshops. Explore sound, movement, and breath as you reset your nervous system by embodying what it means to listen to your intuition.
For the first part of the trip, we will explore a slower pace of village living, reconnecting with the land and our ancestors. Toward the end of this retreat, we will go into Munich to better understand the culture. When we go to Munich we will enjoy a traditional night out and German tradition with a delicious dinner in good company.
At this retreat, you will have a chance to unwind from the day-to-day responsibilities by reconnecting your mind, body, and heart. Enjoy workshops that are focused on mindfulness, and healing, and enjoy exploring the lush surroundings of nature and Germany's landscape. Partake in an inclusive space where regulation, connection, and play can meet.
 Reestablish a connection with your inner child by getting out in nature with hiking, forest bathing, and meeting new people.
There will be a focus on taking care of the mind, body, and spirit. Enjoy waking up with a routine that role models self-care and the importance of starting your day with a full cup. Throughout the week create a healthy relationship by embodying presence. When you can fully be present with yourself, you can also give that in relationships.
Leave this retreat with a secure sense of self and rediscover how to trust in being vulnerable in relationships.
If you have been calling in travel, adventure, and wonder this trip is for you!
Please contact the host if you are interested in traveling to this retreat. They will gladly support you in finding out if this offering is right for you.
Become stronger mentally and find inner peace
A relaxing holiday in a beautiful location
Take some time to focus on you, your Yoga practice and your inner awareness
The ideal location to unplug and enjoy the beauty of nature
Have a wonderful time learning a different practice than your own
LIMITED AVAILABILITY  :
RATE PER PERSON IS $1997 
AIRPORT TRANSPORTATION INCLUDED TO AND FROM MUNICH AIRPORT ON THE 27TH AT NOON AND DROP OFF 2ND AT 3PM
LIMITED AVAILABILITY FOR 17 GUESTS, RETREAT COSTS:
$1997 1 Adult Ticket, Per Person
Retreat price includes lodging, meals, workshops, classes, daily activities such as hiking, forest bathing, cooking class, and a day trip to Munich + dinner in the city.
You are responsible for your flights, we will take care of everything once you arrive with to and from the airport transportation.
No full refund 90 days before the retreat you will lose your initial deposit of 25%, only partial 50% refund 60 days, no refund 45 days before the retreat.
Put your first deposit down as early as April for 5 months of payments for those who desire financial support to make this dream come true.
EMAIL ALICIA@INSPIRATIONISLIFE.COM TO RESERVE YOUR SPOT TODAY.
This retreat requires a consultation call to connect prior to ensure the best guest experience.
What's Included In This Package
Daily yoga classes
Daily meditation classes
3 daily delicious and nutritious meals
Daily pranayama classes
Airport pick-up and drop-off
Transportation during the retreat
Water, tea, coffee served throughout the day
Cooking class
Specialized workshops
Group excursions/activities
Nature hikes with a trusted guide
Professional event photos
Accommodation
Alicia Buivis has a playful spirit, intuitive nature & radiates an inner child that offers warmth. Her passion is to support those who are seeking to live with self love as the foundation. She believes emotional regulation is the root to fostering trust in ones self. Befriending the emotions allows space for compassionate presence.
Alicia helps those she serves in doing the inventory around identify their core values, implement boundaries, address limiting behavioral patterns and beliefs that keep them blocked.
Alicia is a 750 Hour Trauma Informed Yoga Alliance Certified Teacher with an additional background in Yin Yoga, Raising Conscious Kids , Pilates, Ayurveda Medicine, Somatic Attachment Therapy, Mystery School Priestess Codes & is a Reiki Master. She helps those lead with a heart centered focus on becoming the author of their reality VS. a victim to their past conditioning, fears and tribulations.
Ashley Sperber is an intuitive trauma coach that is committed to helping her clients pinpoint the source of their pain using her developed intuition.
She then guides them to understanding and healing the trauma that has misshaped the way they experience relationships, especially with the self.
As a master practitioner of NLP, Hypnosis, and MER®, she is able to rewire unconscious beliefs that prevent people from experiencing the love they deserve to have. Ashley also focuses on establishing a secure connection to the body in order to alleviate stored trauma in the nervous system.
Ashley's focus as a trauma-informed coach is to address the unresolved ancestral trauma that has been inherited by her clients. She is of the belief that the suffering of preceding generations will soon end and this collective healing will create more peace for our legacy.
We will be staying in the heart of Bavaria at the beautiful retreat property located at VIERFALT. There will be two houses on site, one for families and the other for solo or couple travelers.
Vierfalt is only 15 minutes by car from Landshut and 40 minutes from Munich Airport.
The nearest train station is Geisenhausen.
The nearest airport is Munich and transportation from and to this airport is included
Day 5 we will make our way to Munich areas for the rest the retreat.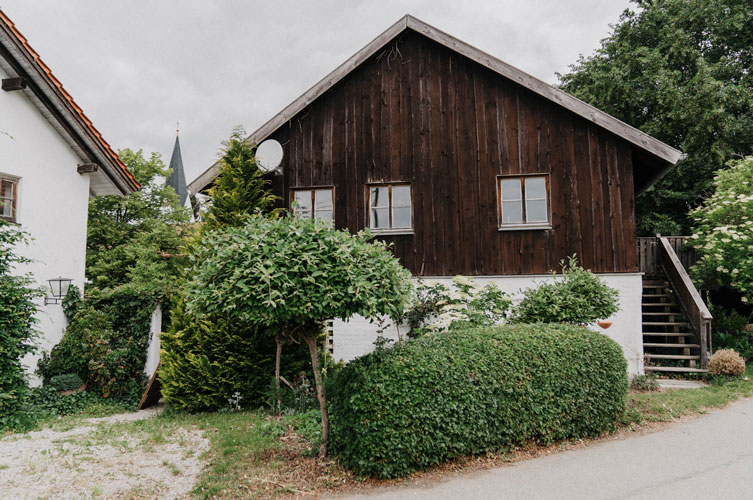 Arrival day: pick up at noon at Munich Airport.
Day 1: 
4:00 PM Opening Gratitude Circle/ Meet & Greet followed by dinner and our opening mandala ceremony
Day 2:
8:00 AM: Morning Movement: Hatha yoga for the adults led by Alicia 
9:15 AM: Breakfast
10:00 AM: Group 1 German Cooking Class & Group 2 Forest Bathing, eat LUNCH in the garden as a community 
Break until 3pm
5:00 PM: Groups swap for German Cooking Class & Forest Bathing, eat DINNER as a group what was cooked 
5:30 PM: Dinner
7:15-8:00 PM: Somatic Meditation + the art of holding compassionate presence and curiosity 
8:15 PM: Restorative Yoga with Reiki  with Alicia 
DAY 3:
8:00 AM: Hatha Yoga with Alicia 
9:15: Breakfast
10:30-12:30 PM: Cacao Ceremony & Dance + Art Workshop led by Ashley
1:00 PM LUNCH
BREAK 
Break until 6 PM.
6:00 PM: Dinner
7:15-8:15 PM: Emotional Freedom Charades as a group with Alicia + Somatic Shaking with Ashley
DAY4:
8:00 AM: Morning Movement, Bhuti Yoga with Ashley 
9:15 AM: Breakfast
10:30-12:00 PM : How To Implement Boundaries & Hold Space For The Inner Critic Workshop led by Alicia 
Break until 5 PM.
6:00 PM: Dinner
7:00-9:00 PM: Ancestralizing Shamanic Journey with Alicia + Ancestral Breathwork Ceremony with Ashley 
DAY 5:
8 AM: Partner Yoga as a group led by Alicia 
9:15 AM: Breakfast
10:30 AM: Leaving Hiking and a day trip  to the animal farm, nature-based healing for stress relief and joy, lunch at the farm
3:00 PM: Break until Dinner at 6:00 PM
6:00 PM: Dinner
7:15-8:00 PM: Pillow Talk Intimacy Building Workshop led by Alicia
8:15 PM: Yin Yoga with Reiki for the adults only
DAY 6:
8:00 AM: Morning Movement: Pilates "Happy Hour for the Chakras", Bija Mantra Sound Meditation 
9:15 AM: Breakfast
10:30 AM: Leaving for Munich experience for the day and dinner in town
7:00-8:00 PM: Return, no evening activity, rest
DAY 7:
8:00 AM: Gentle Vinyasa Yoga until 9 + Closing Ceremony- The Beauty I See In You 
10:15 AM: Goodbye Brunch
Drop off at 1 PM at Munich Airport.
Are you ready to rock your world? Book the free consultation to